Energy services company Kaener, advised by Torraval Cooling, has undertaken the retrofit of the refrigeration system for a city centre hotel in Bilbao. The new system has had to comply with highly demanding safety, environmental sustainability and energy efficiency requirements. This prompted the decision to opt for an evaporative cooling tower as it has minimal energy consumption, makes less noise, takes up less space and a lower investment for the establishment. The installation works represented a considerable challenge given that the tower had to be installed in a small interior patio. Moreover, the replacement of the cooling units took place while the hotel was open to guests, meaning that it had to be completed as quickly as possible, in a record day and a half.
Located within the urban area of Bilbao, the hotel is right in the heart of the commercial district and within walking distance of the tourist and cultural area of the city. The establishment has 150 rooms, a bar, restaurant, meeting rooms with capacity for 300 people, gym and parking. The commitment of the hotel company is to offer sustainable, consistent and efficient services to its guests, employees and society in general. Also working towards a responsible management of the business in the economic and social fields as well as the environment.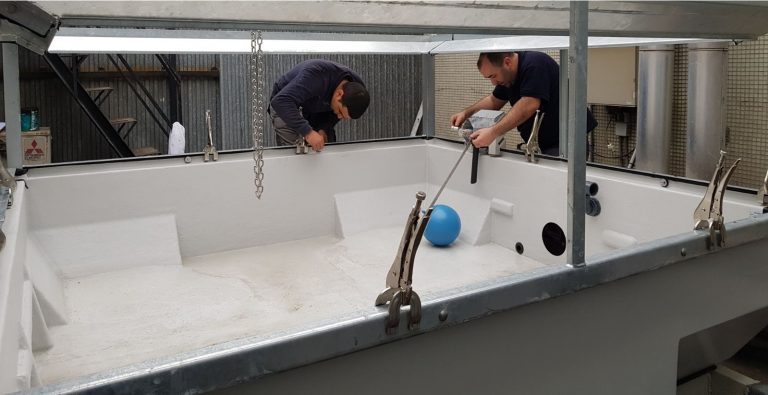 Background
The constant growth of the facilities and services offered by the establishment and the deterioration of the old metal cooling tower had made it necessary to replace the refrigeration system. The old tower offered low energy efficiency as well as being problematic to maintain. Selecting the refrigeration equipment,
this system had to meet the highly demanding safety, environmental sustainability and energy efficiency requirements of the hotel's own quality policy. The technicians responsible for the installation from air conditioning systems specialist Kaener, acting on the advice of industrial cooling solutions manufacturer Torraval, decided to install an evaporative cooling system as a safe and efficient alternative.
Three premises had to be considered when replacing the oldequipment:
• Implementation of an adequate technological solution.
• Tower location: in a small interior patio accessed from the roof.
• Establishment and implementation of a prevention and specific maintenance plan for the installation.
By following these criteria, the system should have along useful life, hence the choice of a tower made of FRP (fiberglass reinforced polyester). It´s two main characteristics are its inalterability against corrosion and easy maintenance.
Evaporative cooling towers offer clear advantages over air options. For example, these refrigeration units have a minimum energy consumption, are less noisy, occupy less space and represent a lower investment for the hotel.