We participate in the Polar project developed in Adisseo, world leader in the animal nutrition industry, together with TechnipFMC engineering and aimed at the consolidation of the Adisseo plant in Burgos.
The factory that produces liquid methionine, seeks to consolidate its reliability by guaranteeing safety at all levels and contributing to its mission to feed the planet through the Polar project.
The cooling project: creation of new process units and adaptation of the facilities and the expansion of the cooling of the production processes with two new TORRAVAL cooling towers.
TORRAVAL expands an existing 3-cell cooling tower by adding one more, while supplying another single-cell tower. Both with the following characteristics:
Galvanised steel structure.

GRP exterior enclosure, prevents water and air leaks and resists wind load.
Laminar

filler

made of PVC sheets for clean water. This design improves the cooling effect.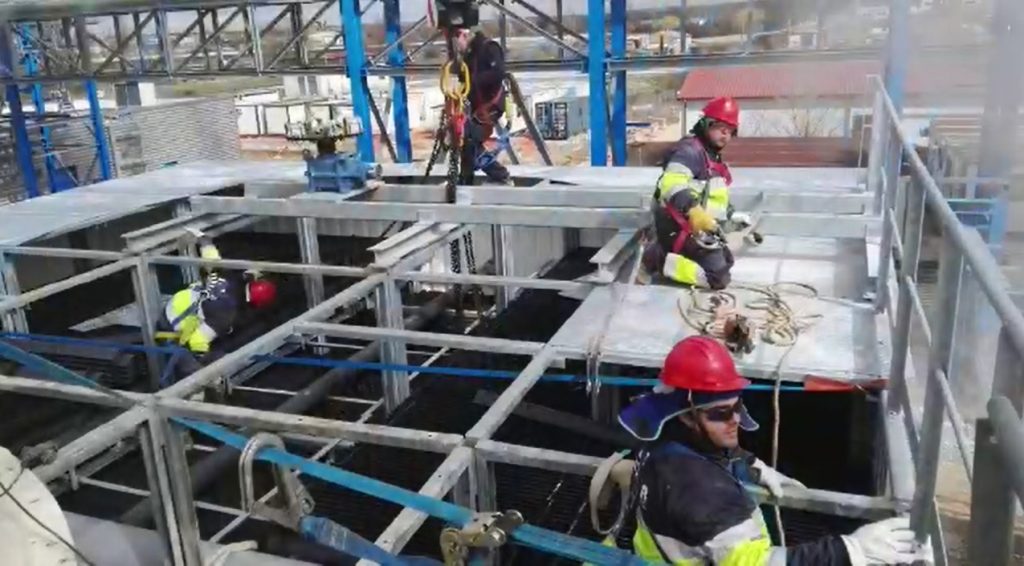 Drift eliminators covering the entire inner surface of the tower with a double zigzag design, limiting carry-over losses to less than 0.05% of the circulating flow. The slats form removable panels that facilitate access to the water

distribution system

.
Independent distribution system in each cell in PVC
Diffuser with a Venturi-type design profile on top that minimizes pressure loss.
Axial

fans

with a maximum peripheral speed of 60 m/s. The fan blades have aerodynamic profile, made of FRP. The blade angle can be adjusted manually.
Floating transmissions with flexible couplings by means of stainless steel plates, and spacer in galvanized steel, do not require any kind of lubrication.

Mechanical equipment

mounted on galvanized steel supports, resist operating loads, minimize vibrations and ensure perfect equipment alignment.
Access from the ground to the deck via a cat staircase. Each cell is provided with an access door to the interior for easy inspection.
Access security.

Easy and accessible maintenance.

Corrosion-resistant structure and internal components