Safety at access to cooling towers
Access safety is one of the priorities in this new Smurfit Kappa process cooling project in its Sangüesa plant.
Smurfit Kappa is a world leader in the manufacture of paper-based packaging with 350 production plants. Its products, which are 100% recyclable and biodegradable, are manufactured in a sustainable way.
Safely bridge the distance between the main plant building and the cooling equipment. This is one of the priorities of the project along with facilitating, through platforms, the execution of maintenance and cleaning tasks.
To meet the needs of process cooling, we supply 3 open circuit and forced draught cooling towers, model CTFP with laminar fill and open channel distribution system.
The location of the refrigeration equipment outside the perimeter of the production plant and at different levels, leads us to incorporate stairs, platforms and railings that facilitate safe access, avoiding the installation of cat staircase.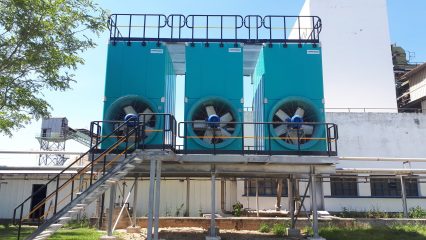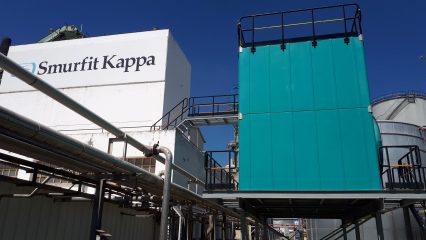 The installation of the accesses consists of the following elements:
Tramex corridors between channels and maintenance platform for safe access to the water distribution system and drift eliminators.
Perimeter railings on the top of the cooling towers
Lower support platform made of galvanized steel with access ladder for the maintenance of mechanical equipment and access to the man doors of the cooling towers.
Access footbridge to the top of the towers from the terrace of the production plant.
Corrosion resistant materials: Long life of the equipment, easy cleaning and maintenance of the different components of the cooling towers.
Maintenance platform, tramex and anti-slip GRP walkway are lightweight structures, resistant to the weather and the passage of time, essential for carrying out inspection, maintenance and cleaning work safely.
Total and safe access to the cooling towers for inspection, cleaning and maintenance tasks.