Cooling in the rubber industry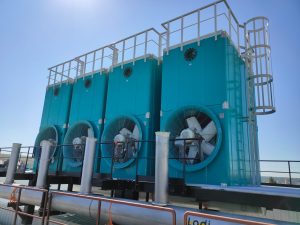 In rubber manufacturing, cooling processes are crucial to improve quality and increase productivity. The shorter the cooling time, the higher the productivity. Proper cooling improves quality, reduces waste, and optimizes the production process.
Cooling is a demanding procedure that follows optimized parameters that must be kept very precise and constant.
THE CHALLENGE
In this project, the SPIN engineering company from Burgos, in charge of the renovation, contacted us with a clear brief: The replacement of the old tower of a rubber production plant for two clear reasons:
It is a priority to quadruple the cooling flow of the process and go from 250 m3/h to 1,000 m3/hour.
The existing tower is at risk of collapse and is not performing efficiently.
The challenge is to quadruple the cooling capacity without increasing electricity consumption while ensuring maximum energy efficiency.
Due to lack of space, the tower has to be placed on a metal structure on the roof of the plant and it is necessary to have a built-in basin.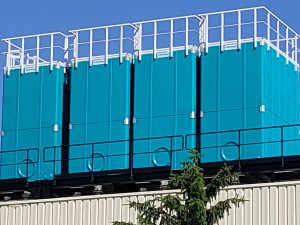 THE SOLUTION
To meet these requirements and after evaluating different alternatives, we opted for 4 CTFP open-circuit cooling towers with a compact, leak-free monoblock structure. These towers are strong, but equally light and ideal for their new location.
With these towers, the objective of multiplying the cooling flow by 4, which increases from 250 m3/hour to 1,000 m3/hour and therefore the cooling capacity, is achieved. However, the electricity consumption does not increase in the same way. It goes from 30 kW to 60 kW for the totality of the new refrigerated flow.
In order to be able to access and move safely around the metal platform on which the towers are located, the area is provided with a circuit with all types of access:
* Vertical stairs with handrails and crinoline anti-fall protection.
* GRP handrails with handrails around the entire perimeter of the tower area.
* Large GRP Tramex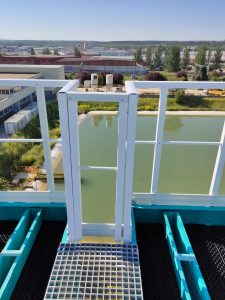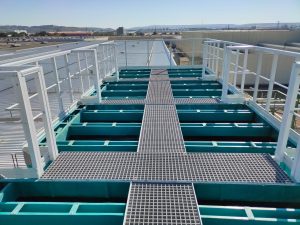 In order to carry out the thermal exchange in the best conditions, a high efficiency laminar filling is chosen.
The simplicity of the mechanical equipment of these towers and their placement at ground level, as well as the distribution system in open channels, guarantee easy maintenance due to the total accessibility and visibility in the operations of revision, cleaning, and inspection.
This type of tower is entirely made of GRP (polyester reinforced with pultruded fiberglass) with the consequent advantages in terms of durability and corrosion resistance. To keep this common problem at bay, all hardware is supplied in stainless steel.
RESULTS
The flow rate to be cooled in the process is multiplied by 4 while the electrical consumption is kept at bay.
Modern, renovated installation with anti-corrosion materials that guarantee its longevity.
Accessible and easy-to-maintain towers.
BENEFITS FOR THE CLIENT
Savings and Energy efficiency in your production process
High protection against corrosion
Minimal maintenance
Guaranteed safety in access to the towers.