Cooling towers in backup power generation
This plant produce backup power generation using LPG as fuel. It has 43MW and consists of 26 Caterpillar engines with two closed and pressurized cooling circuits. A high temperature one dedicated to the engine block and another low temperature one dedicated to the aftercooler.
THE CHALLENGE
Given the design  engines conditions  (ISO), higher than budgeted losses occurred when the ambient temperatures exceeded 29°C. This condition was limited by the low temperature cooling circuit where getting maximum engine efficiency, the water had to enter the aftercooler at 32°C. This was not met when ambient temperatures were high. The area easily reaches 34 C, in shade, in summer. The 26 LPG engines were cooled by air coolers. When the ambient temperature exceeded 29-30ºC, with this type of DRY refrigeration, cooling temperatures of 32-34ºC could not be reached. This caused a reduction of engine efficiency and power generation capacity.
Ingal Engineering, in charge of the project, decided to install an auxiliary cooling system annexed to the existing one. The system is designed based on evaporative cooling towers with heat exchangers incorporated into the existing cooling circuit.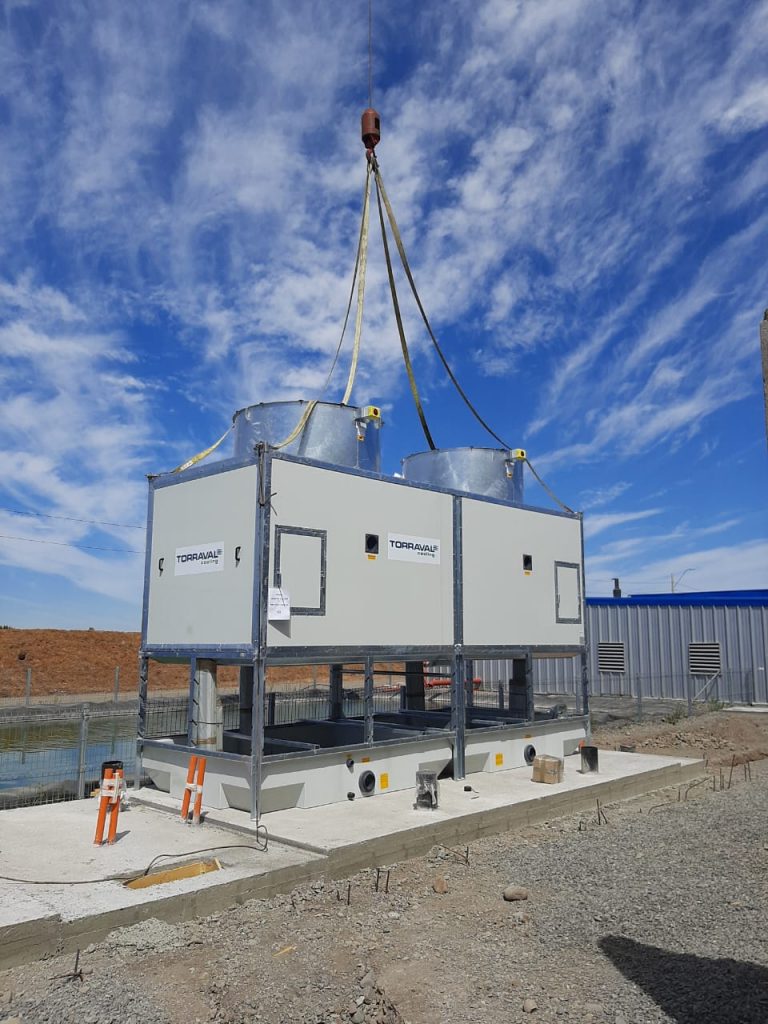 It is required to cool the 26 gas engines with a water flow rate of 29 m3/h water each, at 33ºC. The water that will cool the engines will undergo a thermal increase of approximately 4ºC.
When temperatures in the area are high, the cooling liquid is circulated through the air coolers, and if the desired temperature is not achieved, it is introduced into the plate heat exchangers, which in turn work against the cooling towers.
For this purpose, Torraval selects 2 evaporative cooling towers that will serve the 26 plate heat exchangers.
THE RESULT
Cooling towers for backup power generation systems
Two open circuit cooling towers with induced draft PME series are selected. These cooling units are made of 3-5 mm thick steel structure, which is hot dip galvanized. It has 22 mm thick fiberglass sandwich panels. This type of panel is manufactured with a double laminated layer with expanded support material inside.
This construction provides high mechanical strength and good absorption of falling water noise. In addition, the fiberglass surface is protected by a ultraviolet radiation , hot and cold water, abrasion due to weathering and chemicals resistant gel coating
Mechanical equipment
Fully enclosed, self-ventilated motors.
Aerodynamically shaped multi-bladed axial fans provide high performance with low power consumption. Specially designed for cooling towers. The fan blades are aerodynamically shaped, made of glass fiber reinforced polypropylene (GRP).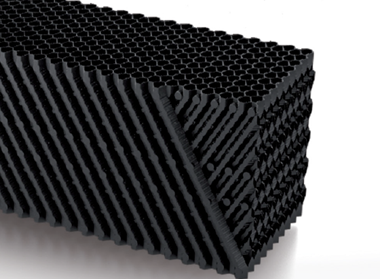 Thermal exchange between water and air takes place inside the fill. The cooling towers are equipped with 12 mm laminar packing that increases the contact between air and water, resulting in heat transfer. It consists of PVC sheets joined together forming manageable standard blocks. The fill completely covers the cooling tower inner volume  preventing air free passage from the bottom to the top of the unit.
The bottom of the water collection pool is sloped with rounded corners to facilitate complete emptying and cleaning.
CUSTOMER ADVANTAGES – Removable walls
One advantage offered by these cooling towers is removable side walls (2.1×1.76 m). This feature facilitates and simplifies internal parts maintenance operations.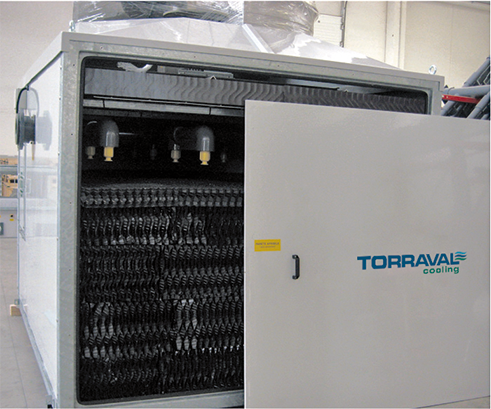 Heat exchangers have plates equipped with elastomeric gaskets that seal the channels and direct the fluid into alternative channels.
The design allows easy cleaning and simple capacity modification (by removing or adding plates).
Maximum thermal efficiency
Compact units: space-saving, easy maintenance and serviceability
Maximum uptime – less fouling, stress, wear and corrosion
Flexible – easy to adapt to changing service requirements
New evaporative cooling equipment translates into increased motor efficiency and power production capacity
Ingal Ingeniería in its permanent search for improvements, has formed a strategic alliance with TORRAVAL Cooling, offering technologically innovative solutions.


It distributes and installs open and closed circuit cooling towers, field mounted towers for industrial and civil use, evaporative  condensers  and  adiabatic  and  hybrid  systems.