Theory and operation of evaporative cooling towers
Evaporative cooling towers exploit a simple and natural physical principle, the forced evaporation of a minimum amount of water reduces the temperature of the main water body. Therefore, the cooling towers represent the cooling system most used in civil and industrial applications today.
The temperature of the wet bulb in the installation area is the minimum exit temperature that can theoretically be obtained from a tower of refrigeration. Furthermore, unless the air is saturated, this value is always lower than the temperature of the dry bulb.
On this basis, many designers and equipment manufacturers plan to use water from the cooling tower while sizing cooling circuits and heat exchangers. In this way they guarantee an optimum efficiency of the plant from the first stage of design.
"Cooling towers have long been the most reliable, established and efficient heat rejection devices on the market":as explained by the educational video produced by Assoclima, Association of Air Conditioning System Manufacturers, a member of the ANIMA federation (Confindustria). The aim of the initiative is to describe how evaporative  cooling works and why they make sense from both a technical and economic perspective in partnership with leading manufacturers,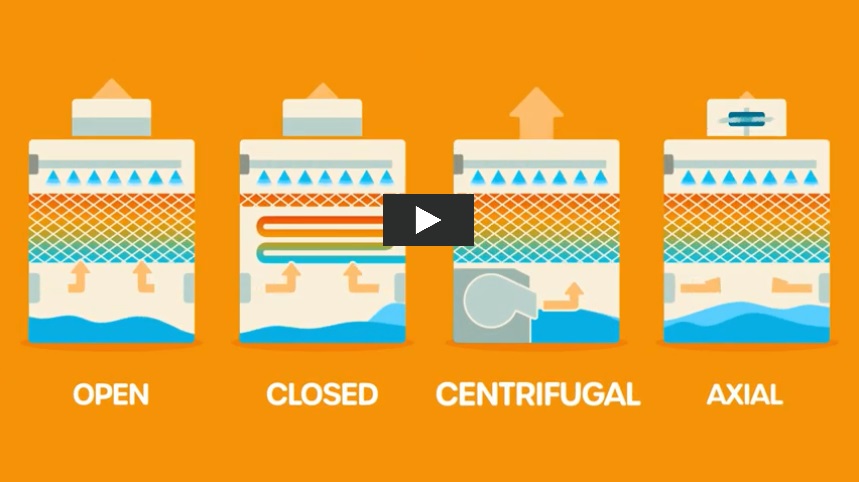 First of all,  their performances can be measured and certified by associations like  Eurovent and CTI: "With an air/environment temperature of 38°C and 35% relative humidity, a tower can cool water by up to 28°C". Whether it is open or closed circuit with centrifugal or axial fan..
Other advantages of cooling towers…
Reduced footprints with space savings of up to 70% compared with other cooling systems.
Low electricity consumption: up to 4 times lower than other systems.
Low noise emissions.