Reduce electricity consumption in your cooling tower
QUESTION: Can I reduce electricity consumption in my cooling tower?
ANSWER: Yes, you can
Controlling electricity consumption and electricity bills in the industrial sector, especially in these times, has always been a trending topic among customers. Therefore, this question is one that cooling tower customers ask us regularly.
To reduce electricity consumption in an installation, we have to act on the motor.
In most cooling installations, the motor is working at nominal consumption conditions.
If this is your case, you can reduce the electrical consumption by installing a frequency inverter. With a temperature probe connected to the cold water, the frequency inverter acts on the motor, allowing it to work under more advantageous consumption conditions.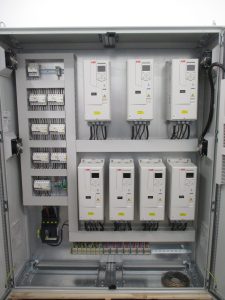 The correct design of the cooling equipment considers the highest wet-bulb value during the year but not the variability of this temperature.
Torraval Control System constantly checks the thermal efficiency according to the design at variable wet bulb temperature and optimizes the operation of the cooling tower to avoid any wastage.
The Torraval Control System offers the following ADVANTAGES:
electrical energy savings
reduced wear and tear of electromechanical components and maintenance
cost reduction
reduced water consumption
reduction of costs related to water treatment
noise attenuation