In the world of industry, the minimization of all kinds of environmental impacts, visual or otherwise, drastically and increasingly mark any aspect of the company's daily life.
This is important in industrial companies, but much more so in service companies.
Within these impacts, the problems associated with the noise generated by mechanical equipment should be especially highlighted.
Cooling towers and other cooling equipment based on forced air circulation by means of fans, are undoubtedly one of the main sources of noise generation.
That is why in a process of implementation or revamping, the acoustic impact they generate must be carefully considered.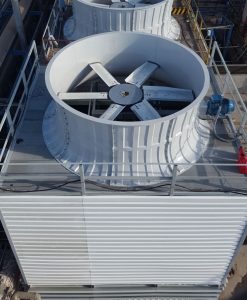 Any acoustic analysis is a complex aspect, which goes beyond the equipment itself, since aspects such as nearby buildings, orography, absorptivity of the area, other sources of noise, etc. have a drastic influence. Therefore, optimal solutions can only be reached through a global analysis of all these aspects.
However, TORRAVAL, as designer and manufacturer of refrigeration equipment, offers the client (or acoustic engineering) all its experience and know-how to adapt the acoustic behavior of the cooling tower to the real needs of the project.
The cooling towers are important generators of noise, focusing such generation on the fans, and the rain area that is generated on the surface of the water in the pond. These noise generators can rarely be considered as point emitters. This maximizes the problem of analysis.
There are many resorces to include in an optimal acoustic design of a cooling tower. Aspects such as fan selection, fan speed, shielding at ceiling or raft level, minimization of rain noise, absorption of rain noise, reduction of installed power, etc.
These are possible tools with an overall impact on the design of the tower, as well as on its acoustic behaviour.
TORRAVAL therefore places itself at the disposal of its clients to provide its capacity to design towers for the global acoustic problems of their industrial plant or refrigeration installation.