It is usual to find cooling towers working in combination with both water condensing chillers and plate heat exchangers.
Evaporative cooling towers are commonly used in refrigeration systems:
energy production
civil conditioning
HVAC
process industry
This last area certainly represents the most frequently involved in the use of evaporative cooling towers. We can find them especially in medium and large power plants.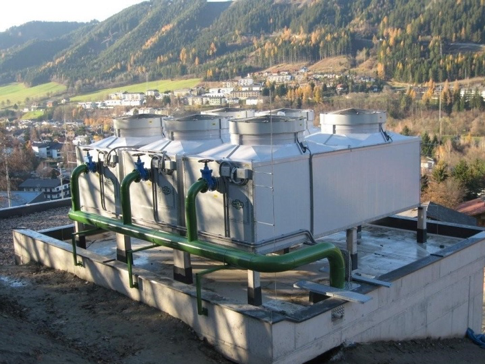 Evaporative cooling towers: the optimum solution for high powers
All cooling systems, whether air-cooled, adiabatic or refrigerant, represent a possible alternative when the thermal powers to be dissipated are relatively modest, below 1 MW. However, they become extremely expensive when the power output is very high.
Open and closed circuit cooling towers are used in the field of process industry. In the case of closed circuit towers, the cooling agent, water or a water-glycol mixture, circulates inside a flat tube coil that is externally wetted it. The evaporated water extracts heat from the internal fluid thus cooling the refrigerant.
Cooling towers combined with heat exchangers
Closed circuit cooling towers are a valid alternative if you want to perform "indirect" user cooling. In other words, there is a need to keep the cooling circuit liquid completely clean so that it does not become contaminated.
The same type of indirect cooling can be provided by an open circuit cooling tower combined with a plate or tube heat exchanger. The advantage of the first of the two systems consists in the fact that both the evaporation section and the flat tube heat exchanger on which it acts, are located in only one machine. The advantages in terms of space and cost optimization are obvious.
Cooling towers combined with water chillers
Cooling towers are also used in civil refrigeration but above all in industrial and commercial refrigeration. We specially find them in combination with water-cooled refrigeration condensers, today more than ever in absorption units.
In conclusion, we show some industrial or civil sectors in which cooling towers can fulfil their purpose of removing heat from the process.
Nuclear, thermal, geothermal and coal plants.
Oil and gas plants: large field erected cooling towers (FECT) are often used.
Oil and gas Refineries.
Production of plastic materials and heat treatment of metals such as steelworks and foundries.
Cogeneration and trigeneration.
Air conditioning systems in civil and industrial buildings (HVAC area).
Supermarkets combined with chillers.
Small production plants such as ice-cream shops.