PME-E Open Circuit Cooling Towers for RAI in Rome
PME-E open-circuit cooling towers are part of the air conditioning system of the historic building of the Italian radio and television company, on Via Teulada 66, in Rome.
The TV Production Centre (TVPC) has just celebrated its 60th anniversary: its viewers will remember its brick building, the old "RAI" logo and its historic long-running programs filmed in its nine television studios.
The air conditioning system of that building was very deteriorated by the passage of time, 30 years in operation. Therefore, several areas of the system had to be renovated, particularly the old steel cooling towers. In addition, the preservation of the support structure in the inner courtyard was also a critical factor.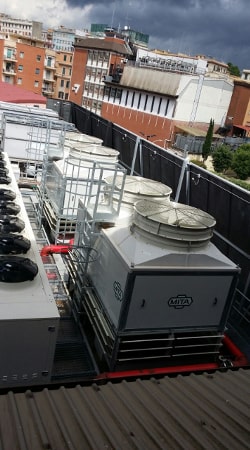 We approach this project according to the client's needs. We carried out the design study in collaboration with Amedeo Scardini SaS, and decided to install equipment with non-corrosive materials, so we selected cooling towers in fibreglass and with the minimum possible noise level.
The system consists of two open-circuit cooling towers PME-E 4103 CW in a silent version. The cooling units are located in the RAI's yard. The low noise level is achieved by low speed motors coupled to fans with special profile blades.
The technical specifications of this solution also respond to other needs:
To facilitate routine maintenance, the installed towers are equipped with fully open walls to allow ample access to the internal parts.

Access stairs to the top.

Installation of low electrical power for energy saving.