EVAPORATIVE COOLING IN THE CIVILIAN SECTOR: BENEFITS
The main European Building Energy Efficiency Standards or Certifications point to Cooling Towers as the most useful cooling system for obtaining credits towards these Certifications.
Standards that were once the exception are now the norm, or, the starting point. There is no doubt that energy efficiency in buildings will continue to be implemented in the coming years. This is another reason to opt for Evaporative Cooling systems:
in industry, where they are already widely deployed,
in the civil sector, where this type of cooling has plenty of scope for further development.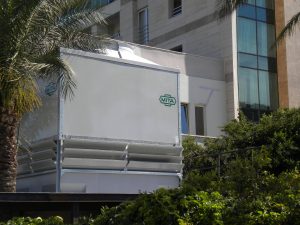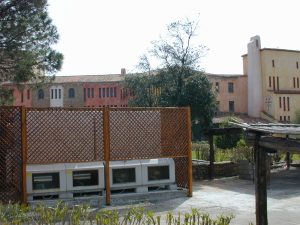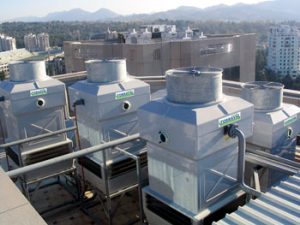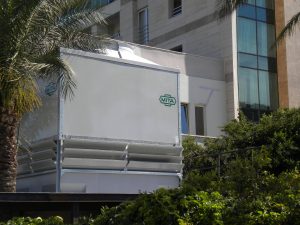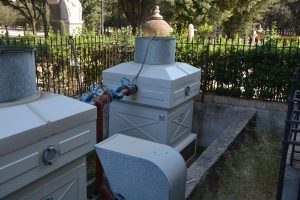 –  – – Cooling towers in non-industrial contexts —
Before we talk about the efficiency and sustainability benefits of Evaporative Cooling in buildings and premises, let's get down to something of utmost importance when talking about its use for people.
1 SAFETY
The national health and hygiene legislation that regulates cooling towers with regard to the prevention and control of legionellosis, RD 865/2003, is one of the most restrictive in our environment. This circumstance has led to important benefits in terms of the safety of these installations. First and foremost, Evaporative Cooling equipment is SAFE for human health thanks to:
A suitable design that prioritises safe operation.
Periodic preventive maintenance programmes to check the correct operation and the state of the materials.
Technical inspections and cleaning and disinfection operations.
Greater accessibility to the facilities, which results in better maintenance.
The development of safety systems such as the requirement for the Droplet Separator
Certificate in accordance with the new UNE 100030/2017 standard, whereby the flow of water entrained must be less than 0.002% of the flow of circulating water.
Mandatory use of biological water maintenance programmes.
Keeping equipment away from areas where people pass through.
All these aspects are taken into account when it comes to the design and construction of a public space by engineering and architectural firms. Together with cooling technology consultants, they can advise on the best solution, always seeking the greatest efficiency and the lowest environmental impact.
2 EFFICIENCY, ENERGY SAVING AND WATER REUSE
In addition, when designing a public place, energy efficiency is increasingly taken into account.
Large retail outlets, hotels and hospitals are major energy consumers, so energy-saving measures must be a priority.
Air conditioning is a major element in the energy expenditure of these centres, especially in summer. It is not common for these centres to have energy efficiency studies or plans in place or to have energy consumption under control.
Food refrigeration is another high energy cost.
Evaporative cooling provides these spaces with energy-efficient air conditioning and refrigeration.
3 SUSTAINABILITY
Another indicator that measures the energy efficiency of a building is its annual level of CO2 emissions.
Evaporative cooling equipment is environmentally friendly due to its zero level of CO2 emissions into the atmosphere.
Engineering companies, together with Refrigeration Technology Consultants, can advise on the best solution, seeking the highest efficiency and the lowest environmental impact.
4 ALL SECTORS ARE CALLED TO BE EFFICIENT
In the industrial sector, evaporative cooling is widely used. Energy saving in construction starts with the design of the building itself.
Royal Decree 390/2021, of 1 June, which regulates the procedure for obtaining the Energy Efficiency Certification for buildings, clearly points in this direction:
Among its objectives: to promote energy efficiency in buildings.
In addition, it extends its obligation to all types of buildings:
Sanitary
Commercial: shops, supermarkets, department stores, shopping centres.
Public residential: hotels, hostels, residences, pensions, tourist flats and similar.
Cultural: theatres, cinemas, museums, auditoriums, congress centres, exhibition halls, libraries and similar.
Recreational activities: casinos, amusement arcades, nightclubs, discotheques and the like.
Catering.
Transport of persons: stations, airports and similar.
Sports: gymnasiums, sports centres and the like.
Places of worship, religious uses and similar.
ALL SECTORS ARE CALLED TO BE EFFICIENT
In short, public facilities of all types are called upon to certify their energy efficiency. Evaporative cooling has many benefits to contribute in this direction. It also has the challenge of entering sectors other than industry, but for which this technology represents an alternative:
RELIABLE   SAFE   EFFICIENT   AND   SUSTAINABLE