MAINTENANCE OF THE PLATE HEAT EXCHANGER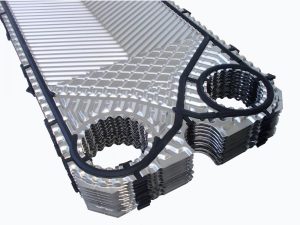 The plate heat exchanger requires care to prolong its life and ensure its correct operation. Timely maintenance saves money and avoids unplanned downtime. Whatever the type, make, or age of equipment, there are options to safeguard or improve its performance.
To extend the life of heat exchangers, the range of refurbishment services is extensive. It ranges from:
cleaning. Plates can become dirty. The layer of dirt hinders heat transfer and worsen performance. Often the pressure drop increases, creating problems in the pumping system.
detection of cracks,
reassembly with new seals,
pressure testing and
replacement of defective plates.
All these operations are nowadays subject to quality procedures. Procedures result in the speed and agility of the interventions. The equipment is overhauled, minimizing waiting times to a minimum. ALFA LAVAL, a reference in the heat transfer market, provides specialized heat exchanger services.
Below we show you the types of intervention that your heat exchanger needs:
1. PLATE RECONDITIONING
Reconditioning refers to the operations carried out on the plates:
Sometimes it is a simple gasket replacement.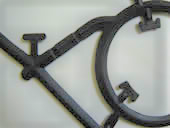 In other cases, gaskets and fouling are removed with specialized tools and chemicals to prevent corrosion and facilitate repacking.
In addition, your heat exchangers are thoroughly examined, correcting any sealing problems, dirt or deformities.
All these operations ensure high efficiency and optimum equipment performance.
Complete overhaul is always necessary at any given time. However, a regular program of cleaning operations can space out such overhauls.
2. FRAME OVERHAUL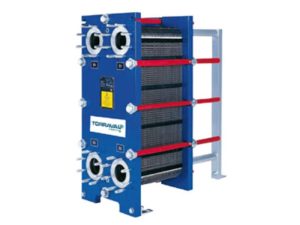 It includes inspection, overhaul, and replacement of connecting liners. Also includes the replacement of bolts or other frame parts. When the chassis cannot be taken to a service station or workshop, the repair of the chassis has to be carried out on-site by the service technicians.
3. REDESIGN OF THE PLATE HEAT EXCHANGER
More than 2% of world CO2 emissions come from low-efficiency heat exchangers. Plate design is crucial for the performance of the equipment, as well as the thickness and the materials used.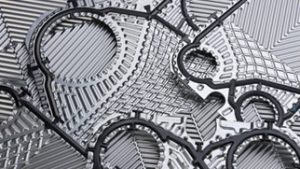 The redesign option is of interest to consider at any time, in any place, and for any brand.
It serves to optimize the performance of the equipment and to meet your new needs:
– increase production,
– reduce pressure drops,
– minimize fouling and,
– maximize heat recovery in your process.
A proper redesign can increase production and save costs. It is possible to reduce energy consumption with a design adjusted to new circumstances, avoiding excessive pressure drops or maximizing heat utilization.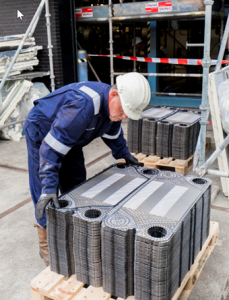 We recommend that if you have a plate heat exchanger, do not neglect to maintain it. This small gesture will save you costs and make your equipment more efficient.